Posts for tag: nutrition
Good nutrition is essential for your child's developing teeth and gums as well as the rest of their body. You do what you can to provide them not just nutritious meals but also healthy snacks for other times of the day.
But once they begin school, you can't watch out for them all the time. They could be away several hours where they might be tempted to make unhealthy snack choices.
What can you do to lessen their chances of unhealthy snacking at school?
Engage with the school and their snack offerings. A set of U.S. Department of Agriculture regulatory guidelines called Smart Snacks in Schools sets minimum nutritional standards for snacks offered on school grounds. These guidelines promote whole grains, fruits, vegetables and low-fat dairy products and limit calories, fat, salt and, of particular importance to dental health, sugar. The guidelines, though, are only a minimum, so join with other parents to encourage your school to exceed those snack nutrition minimums whenever possible.
Educate your child about nutrition. Good nutrition starts at home: it's important not only to offer wholesome foods but to also teach your child why some foods are better for their body (and their teeth) than others. By encouraging a lifestyle of healthy eating both in practice and knowledge, you'll find it easier to set limits on their snack choices away from home.
Send snacks with them to school. If you're unsure your child will make the right choices, especially if they're young, than send snacks with them to school. Be sure, though, what you're sending is as appealing as the school choices. Try a little creativity: popcorn with a zing of cinnamon or cheese; decorative snacks; or easy to eat bite-sized fruit or vegetables. The more they like what you're sending, the less likely they'll choose something else.
In some ways snacking could be the Achilles' heel in providing your child the right foods for good dental health. By following the tips above, though, you can help raise the chances they'll eat the best snacks for strong teeth and gums.
If you would like more information on nutrition and dental health, please contact us or schedule an appointment for a consultation. You can also learn more about this topic by reading the Dear Doctor magazine article "Snacking at School."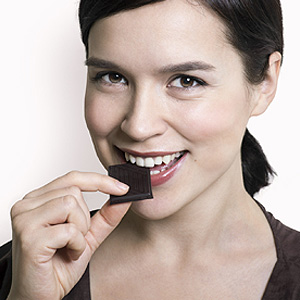 You've no doubt heard about certain foods and beverages that increase your risk for dental disease. These foods, often high in added sugar or acid, can lead to tooth decay or periodontal (gum) disease.
But have you heard about foods with the opposite effect — actually protecting your teeth against disease? Many of these dental-friendly foods are plant-based and fibrous: they stimulate saliva production, one of the mouth's best disease-fighting weapons.
But there are also some foods you might not expect to make the good list for dental health. Here are 3 surprising foods that could help you fight dental disease.
Cheese. We've long recognized milk as important to dental health — but cultured dairy products like cheese are also good for teeth. Cheese stimulates saliva, which neutralizes acid and replenishes the enamel's mineral content. Cheese also contains decay-stopping minerals like calcium, phosphorous and casein. And although milk cheese contains the sugar lactose, this particular type triggers less acid production than other sugars.
Black & green teas. You may have heard about the staining effect of tea, and avoided it as a result. But both forms of tea are also rich in antioxidants, substances that protect us against disease, including in the mouth. Black tea also contains fluoride, which strengthens enamel against cavities. If you drink tea, of course, you should exercise diligent hygiene to reduce any staining effect.
Chocolate. Yes, you read that right, chocolate: unrefined cocoa to be exact, which contains a number of compounds that resist decay. Ah, but there's a catch — chocolate in the form of your favorite candy bar usually contains high amounts of sugar. Sweetened chocolate, then, is a mixed bag of decay-resistive compounds and decay-promoting sugar. To get the benefit you'll have to partake of this favorite food of the Aztecs in a more raw, less sweetened form.
Of course, there's no single wonder food that prevents tooth decay. Your best approach is a diet rich in fresh fruits and vegetables, dairy and quality protein while limiting sugar-added and acidic foods. And don't forget daily brushing and flossing, coupled with regular dental visits for cleanings and checkups. Having a comprehensive dental care plan will help ensure your teeth remain healthy and disease-free.
If you would like more information on food choices and dental health, please contact us or schedule an appointment for a consultation. You can also learn more about this topic by reading the Dear Doctor magazine article "Nutrition & Oral Health."
Although a variety of foods provide energy-producing carbohydrates, sugar is among the most popular. It's believed we universally crave sugar because of the quick energy boost after eating it, or that it also causes a release in our brains of serotonin endorphins, chemicals which relax us and make us feel good.
But there is a downside to refined sugars like table sugar or high-fructose corn syrup: too much in our diets contributes to conditions like cardiovascular disease, diabetes, and dental disease. On the latter, sugar is a primary food source for oral bacteria; the more sugar available in the mouth the higher the levels of bacteria that lead to tooth decay and gum disease.
Moderating your intake of refined sugars and other carbohydrates can be hard to do, given that many processed foods contain various forms of refined sugar. A diet rich in fresh fruits and vegetables helps control sugar intake as well as contribute to overall health. Many people also turn to a variety of sugar substitutes: one study found roughly 85% of Americans use some form of it in place of sugar. They're also being added to many processed foods: unless you're checking ingredients labels, you may be consuming them unknowingly.
Sugar substitutes are generally either artificial, manufactured products like saccharin or aspartame or extractions from natural substances like stevia or sorbitol. The good news concerning your teeth and gums is that all the major sugar substitutes don't encourage bacterial growth. Still, while they're generally safe for consumption, each has varying properties and may have side-effects for certain people. For example, people with phenylketonuria, a rare genetic condition, can't process aspartame properly and should avoid it.
One alcohol-based sweetener in particular is of interest in oral care. A number of studies indicate xylitol may actually inhibit bacterial growth and thus reduce the risk of tooth decay. You can find xylitol in a variety of gum and mint products.
When considering what sugar substitutes to use, be sure you're up to date on their potential health effects for certain individuals, as well as check the ingredients labels of processed foods for added sweeteners. As your dentist, we'll also be glad to advise you on strategies to reduce sugar in your diet and promote better dental health.
If you would like more information on your best options for sweeteners, please contact us or schedule an appointment for a consultation. You can also learn more about this topic by reading the Dear Doctor magazine article "Artificial Sweeteners."